This perfect spring quinoa salad is colourful, delicious and nutritious! As the weather starts to get warmer, we often look for lighter meals that are hydrating and that don't weigh us down. We bid adieu to the comfort foods of fall and winter and welcome fresh salads, wraps and smoothies. This quinoa salad is great year-round, but it is truly the perfect spring salad with its fresh citrus dressing!
On a personal and professional note, I truly believe that salads are a great way to increase the nutritional content of any meal. When I say salad, I don't mean lettuce with a couple slices of tomatoes and cucumber! Just search salad on any social media platform including Pinterest and Instagram and you will see all the different types of salads that are out there. Don't get me wrong, the traditional mixed green salads are still a staple in my household, but why not take the extra time and put together something that will excite your taste buds and provide you with a boost of nutrients.
If you want to up your salad game, this recipe is definitely a contender! It is very simple to make, doesn't include a lot of preparation but comes together beautifully. You can enjoy this salad as a side or add some more protein and you have got yourself a complete meal. The great thing about this salad is that it includes ingredients that not only naturally enhance the flavour of the salad, but there are a variety of different colours of veggies that help provide a variety of different nutrients.
You can probably add more ingredients to this recipe, maybe some nuts or seeds for a crunch. You can replace some of the ingredients and add veggies that you may prefer over the ones chosen for this recipe. But, I do strongly suggest that you try the recipe as is. Just try it and see what you think. Each ingredient in this recipe is unique in that it provides you with the right amount of crunch, flavour and colour. And I obviously cannot forget the nutrition. Check out the nutrition spotlight below.
Nutrition Spotlight
Quinoa
If you are unfamiliar with quinoa (pronounced keen-wah), you are in the right place! Quinoa is a small seed that has a nutty taste and is filled with nutrients including protein, iron, fibre and micronutrients including phosphorus and potassium. Quinoa counts as a grain product and can be used as an alternative to common grains including couscous, pasta and rice. As a low glycemic index food, quinoa does not raise blood sugar levels quickly which is beneficial for those who are watching their blood sugar levels.
Quinoa is also a wonderful grain alternative for those following specialized diets including low glycemic index, gluten-free and vegetarian. As a plant protein that is also a complete protein (which is rare), quinoa is a favourite among those looking for meat-free protein sources.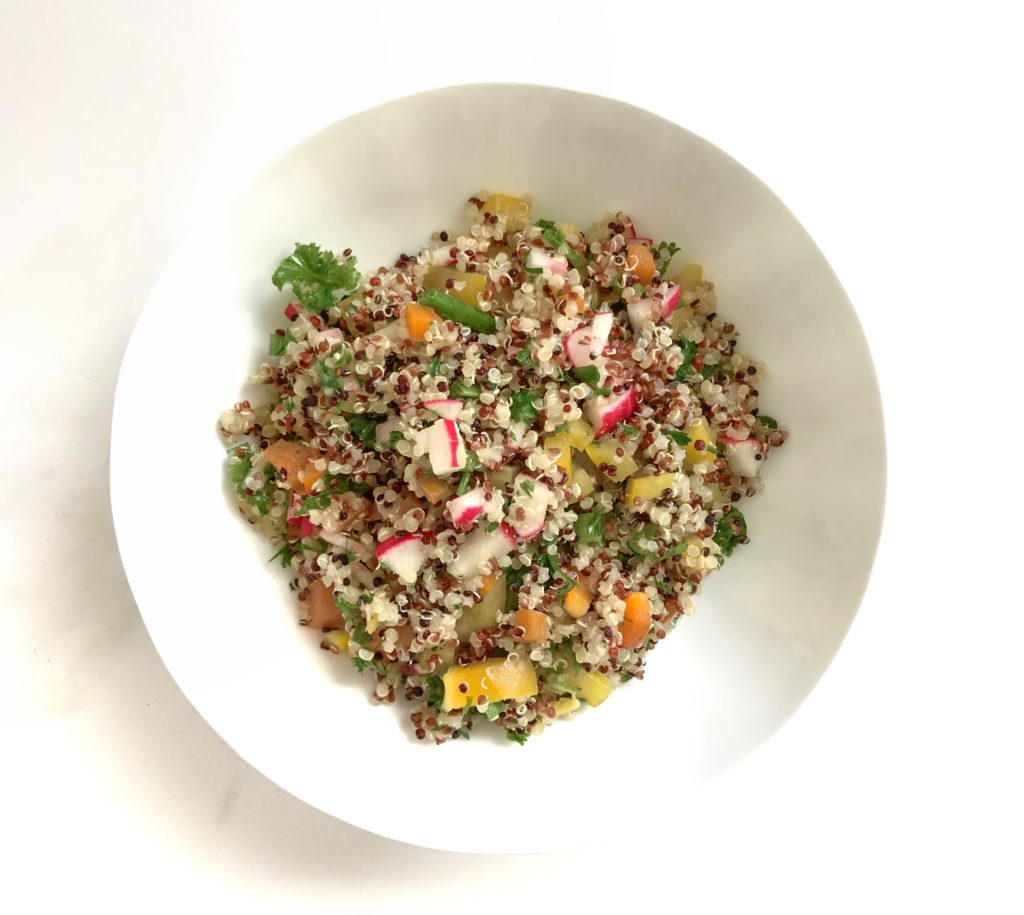 Spring Quinoa Salad
This spring quinoa salad is colourful, delicious and nutritious.
Ingredients
1 cup tricolor quinoa
1 yellow bell pepper, minced
1 orange bell pepper, minced
5 red turnips, minced
4 green onions (green portion above root), chopped
⅓ cup parsley, chopped
Dressing:
1 tangerine, juiced
1 lime or ½ lemon, juiced
3 tbsp olive oil
Pepper to taste
Instructions
Rinse the quinoa a few times (until water looks clear).
Bring quinoa and 1.5 cups of water to a boil. Then reduce heat and cover for 12 minutes (until translucent). Fluff the quinoa with a fork and remove from heat.
Add the chopped vegetables to a large bowl. Once the quinoa has slightly cooled, add to the bowl and mix in the ingredients for the dressing. Mix well to allow the dressing to fully coat the salad.
Enjoy warm as a side or refrigerate and serve as a salad.