As a registered dietitian I try to stress the importance of a balanced diet and lifestyle (blueberry scones included). Yes, the majority of time I eat healthy foods that consist of whole grains, vegetables, fruit, lean protein and healthy fats. In fact, I thrive on these foods. That being said, I also enjoy bringing together some of my favourite ingredients to create something special.
The simplicity of this recipe is what makes it so special. You can taste almost every single ingredient without being overwhelmed. My favourite part…well there are a couple. The blueberries, lemon zest and of course, the Greek yogurt that adds the extra protein to these scones! Whether it's these scones or almost any other baked good (with some exceptions, of course) I will add either orange or lemon zest. Using veggies, fruit, herbs, and spices are the best way to add flavour to any recipe! Whether you are preparing a savoury dish or a sweet one, plant foods are a great way to avoid the added salt and sugar.
Nutrition spotlight
Blueberries: These blue – berries are everywhere, and for good reason! As a fruit they don't contain as much fibre as their other berry counterparts (raspberries and blackberries), however, one cup will still provide you with 4 grams of fibre. Other nutrients of interest found in this delightful fruit include potassium, beta carotene, vitamin C, and manganese.
Blueberries are also quite versatile. You can enjoy them raw, in smoothies, as part of entrées, side dishes, and of course desserts.
Greek yogurt: Greek yogurt is everywhere in the grocery stores. You can find almost any flavour and in a variety of different packaging options. The only type of Greek yogurt I use is the plain, original Greek yogurt. Greek yogurt is a great way to add some extra protein to your diet. It has about double the amount of protein per serving compared to regular yogurt. Greek yogurt will also provide you with calcium, phosphorus and potassium.
Greek yogurt can be used in parfaits, smoothies, dressings, as a side, and used in baking. I use Greek yogurt as a fat substitute in recipes including these scones, muffins, cookies, pancakes, and waffles.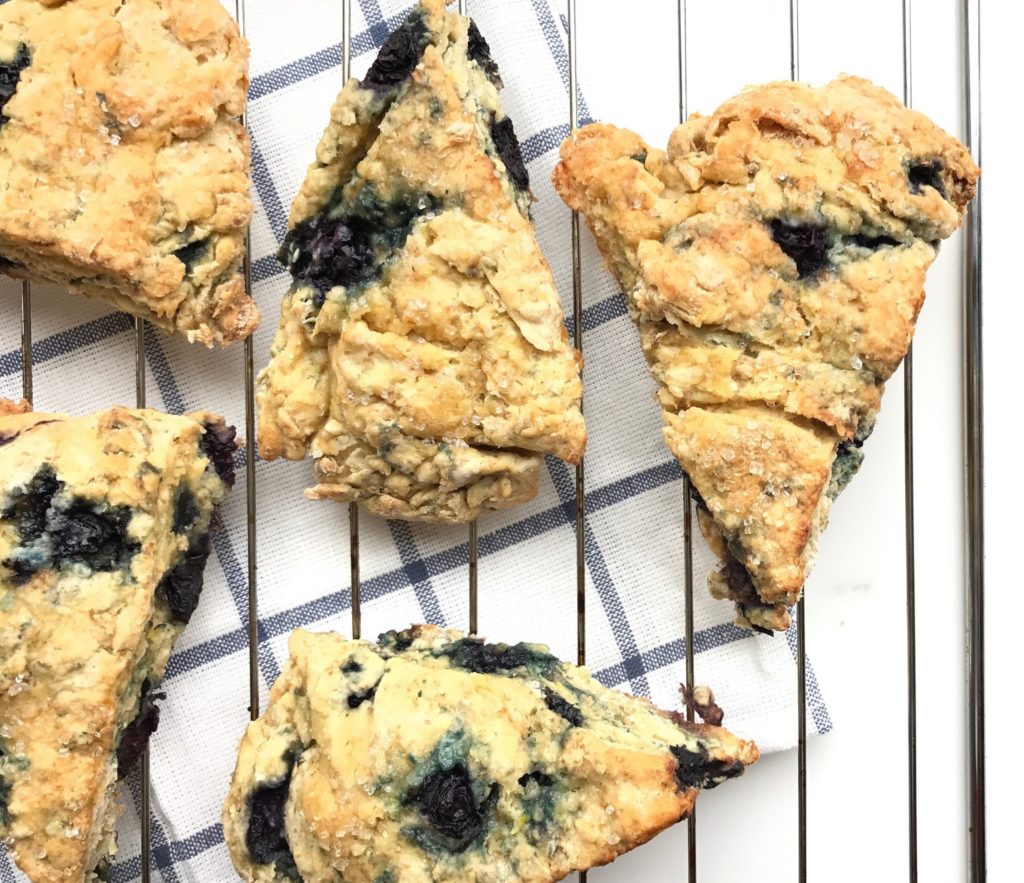 Blueberry scones
Recipe type:
Dessert, Breakfast
Serves:
8 regular or 16 mini scones
These delicious blueberry scones are easy to make, deliciously flaky and provide some added protein for a healthy scone alternative.
Ingredients
1.5 cups all-purpose flour
1 cup whole wheat flour
¼ teaspoon salt
1 tablespoon baking powder
½ teaspoon baking soda
¼ cup granulated sugar
Zest of 1 lemon
*1 stick of unsalted butter (4 oz or 113 grams), cold and cut in small pieces
1 egg
*½ cup plain Greek yogurt
3 tablespoons milk
2 teaspoons vanilla extract
1 cup blueberries
Turbinado sugar, to top scones
*If you want to further cut out the butter, you may wish to use ½ stick of butter (2 ounces or 57g) and 1 ounce/28 grams or approximately ⅛ cup OR ¾ cup Greek yogurt only and no butter.
Instructions
Preheat oven to 400°F and line a large baking sheet with parchment paper.
In a large bowl, mix together the dry ingredients.
Add the butter (cold, cut in small pieces) to the dry ingredients. Use your hands to combine.
In a small bowl, whisk the egg, Greek yogurt, milk, and vanilla. Add to the flour mixture and mix well.
Add the blueberries to the mixture and carefully fold in. Avoid overworking the dough.
Put the dough on a clean and floured work surface. Shape in a circle and cut the dough into 8 wedges.
Add some of the turbinado sugar to the top of the scones.
Bake for 18 minutes or until the top of the scones are golden.
Enjoy straight from the oven or re-heat if you have leftovers.