Steamed vegetables, sautéed asparagus, roasted mushrooms; all acceptable sides to any meal, especially during a Canadian winter. I decided to go a different direction last night when coming up with a side to pair with my salmon. If you're looking for a healthy salad recipe, look for further. I usually prefer a savoury salmon recipe and for that reason I knew I wanted something to complement that. I was looking for a light, crispy citrus based salad and this fennel citrus salad checked off all those boxes.
If you have never tried fennel, let me tell you something, this is probably the best recipe to start out with. It's simple, uses fresh ingredients and compliments a variety of different dishes. If you don't know how to prepare fennel, use this video to help.
What are you waiting for? Try this healthy salad with your next meal and enjoy the leftovers the next day!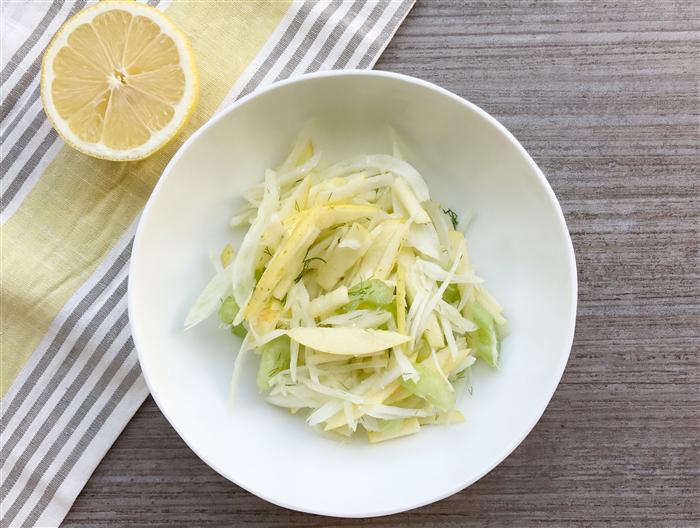 Citrus Fennel Salad
Serves: 4-6 A light and refreshing salad that is quick and simple to prepare.
Ingredients
Dressing:
3 tablespoons extra virgin olive oil
2 ½ tablespoons vinegar (white or apple cider)
2 teaspoons fresh lemon juice
¼ teaspoon sugar
Salad:
1 medium fennel bulb, thinly sliced crosswise
1 tablespoon chopped fennel fronds
3 celery stalks, thinly sliced diagonally
1 firm apple (e.g. Gala, Golden Delicious, Granny Smith), julienned
Sea salt and freshly ground pepper to taste
Instructions
To make the dressing, whisk together the first four ingredients listed above in a medium bowl.
After washing and cutting the fennel, celery and apple add them to the same bowl.
Toss and coat well. You may wish to season with a little salt and pepper to taste.
The salad is ready to be served. You may wish to refrigerate prior to serving to allow the flavours to come together.