Okay, so I have to confess that I've always been a fan of Brussels sprouts! I like them raw, roasted and pan-seared like this side dish recipe I'm sharing today from Lord Buron's Kitchen (with some minor changes). If you don't consider yourself a fan of Brassica oleracea gemmifera (yeah I know, food nerd), I think this recipe will change your mind. The ingredients are few and the directions are simple. If you're curious about the nutritional content of Brussels sprouts you should know that they contain fibre, calcium, magnesium, potassium, beta carotene, folate, vitamin C and vitamin K. Delicious and nutritious!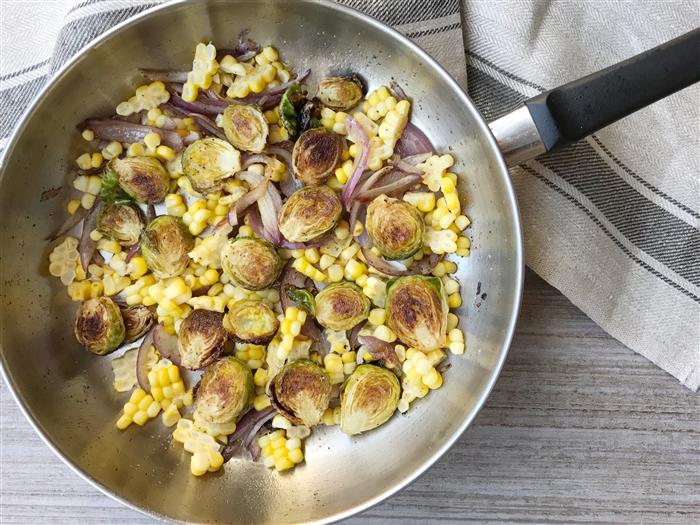 Pan-seared Brussels Sprouts
Serves: 2-3 A warm and delicious side to any meal.
Ingredients
2.5 cups Brussels sprouts, washed, trimmed and halved
1 full corn on the cob, washed, boiled and removed from cob
1 small onion, thinly sliced
0.5 tablespoon butter
1 tablespoon olive oil
Salt and pepper to taste
Instructions
Melt the butter in a medium sized pan on medium heat. Then add the olive oil.
Placed the washed and halved Brussels Sprouts flat in the pan and season with some salt and pepper. Sauté the sprouts until they are golden-brown.
Flip the sprouts and let them cook on the other side.
Remove the sprouts gently. Add in some more olive oil and lightly sauté the onions until caramelized.
Add the cooked corn (removed from cob)and mix well with the onions. Gently place the sprouts back in the pan and let it cook for another 5 minutes on low heat. You may wish to place a lid on the pan for the remaining 5 minutes to allow the steam to further soften the sprouts.
Enjoy.