Fresh herb and feta tomatoes make for a healthy and delicious summer snack! In general, tomatoes are pretty versatile and can be used in main dishes, side dishes, appetizers and in this case as a snack! If you are looking for simple ways to use tomatoes this summer, you are in the right place.  If not, that's okay. I'm sure you will learn something new and maybe even try out the recipe.
Tomatoes can add so much colour and vibrancy to a meal, it makes them the perfect salad, side dish and even snack! This fresh herb and feta tomato recipe is so simple, there really is no need for a recipe (but don't worry I've included on below). What I love even more about enjoying tomatoes in the summer is the fact that they are in season here in Ontario so they will be fresh, delicious and nutritious.
Tomatoes are not often thought of when preparing meals, as least for the majority of people I see in my practice. Sometimes we forget about the vegetables and fruit that are so common and we look for new and exciting produce. Let me tell you something, tomatoes can be very exciting! You can enjoy the beautiful visual appeal they add to a dish, whether raw or cooked as well as the nutritional benefits.
More about tomatoes
You may not know this but tomatoes, although considered a vegetable, are actually a fruit! Not only that, there are hundreds of different varieties of tomatoes.  In Ontario, there are over 300 different varieties and based on Foodland Ontario they can be grouped into the following categories:
Round – round tomatoes that are great for slicing and best for eating raw.
Roma or Plum – have a thick flesh and are good for making sauces and paste.
Beefsteak – can be small or large and are round and flat with a thick flesh and less juice (compared to round tomatoes). You can cook or eat these raw.
Not only do tomatoes come in a variety of different sizes and shapes but they also come in a variety of different colours, so not just red! Other than the visual appeal, let's learn more about the nutritional benefits of tomatoes.
Tomatoes and nutrition
Tomatoes are low in calories and a good source of Vitamin C! They also contain Vitamin A and folate. Tomatoes are also known for being a great source of antioxidants. Lycopene, in fact, is the antioxidant found in tomatoes. It is also what gives this fruit its dark red colour. Lycopene is also found in watermelon which I explain in my watermelon and lemon ice pops post! Studies have demonstrated the health benefits of tomatoes as it is associated with helping to protect against certain cancers including prostate, colorectal, breast, and pancreatic.
What you may not know about tomatoes is that they are even more nutritionally beneficial when they are cooked. Yes, that's right. You don't have to eat raw tomatoes if you don't like them. In fact, when heated (such as in stews and sauces) the effects of lycopene are enhanced because it becomes more available for our bodies to absorb. Another way to help the body absorb more of the lycopene from tomatoes is by adding some oil to it, such as olive oil. This is exactly what I have done in the recipe I have provided below!
Other than lycopene, the other vitamins and minerals found in tomatoes including potassium and folate may also aid in heart health. So, with all that information including the fact that tomatoes are so juicy and delicious this time of year this simple snack recipe is an absolute must! Great for any time of the year but perfect for the hot summer months!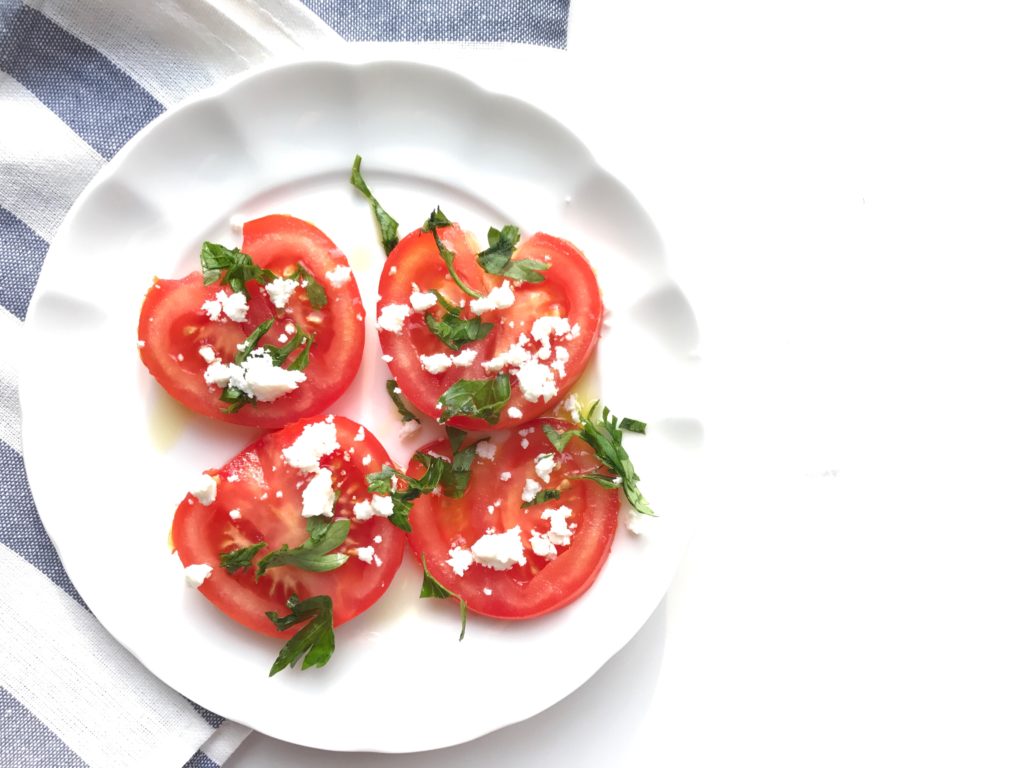 Fresh herb and feta tomatoes
A simple and healthy snack recipe that is perfect for summer.
Ingredients
1 tomato, sliced
2 tablespoons parsley, chopped
1-2 tablespoons feta cheese, crumbled
2 teaspoons extra virgin olive oil
pepper to taste
splash of balsamic vinegar or lemon juice (optional)
Instructions
Place the sliced tomatoes on a plate.
Top with the above ingredients.
Enjoy on its own as a snack, or as an appetizer with some whole grain crackers.